Capri (Spring Garden) Package
Our Curated Packages include all the elements for a beautifully styled event, without the challenges of arranging everything individually. Planning suddenly got a
whole lot easier. We have teamed up with our friends at The Small Things Co and Wild Flos to design and curate packages which all include signage, table decor, stationery and florals.
Not just for weddings, they're perfect for all kinds of celebrations - engagement parties, birthdays, corporate dinners and more.
FIND OUT MORE about Curated Packages.
For decor hire pricing, please contact The Small Things Co
For floral pricing, please contact Wild Flos
The charm of the traditional English Garden is given a fresh update with this look. Soft shades of blue, pink and green are complimented with old world inspired decor. Featuring stationery from the Capri collection, it has a hint of old world Europe about it, and is perfectly timeless for an elegant affair.
Inclusions in your stationery & signage package:
Welcome Sign in a size and shape to suit your stand (A1 rectangle, A1 arch, 650x650mm square, 520x700mm arch or 600x900mm pill shape).
Seating Chart in a size and shape to suit your stand (A1 rectangle, A1 arch, 650x650mm square, 520x700mm arch or 600x900mm pill shape).
Menus personalised for each guest, 148x210mm rectangle.
Small Signage Set (any text you like, eg. Drinks Menu + Gifts Sign + Table Numbers), 127x178mm rectangle.
Our pricing reflects a discount for ordering items as a package, and is quoted based on a set range for guest numbers, in order to accomodate fluidity with guest attendance.
Colour changes are welcome, and usually there's no additional cost. See our Colour Chart for our current season paper options. Signage is printed in full colour ink on white rigid board, and we colour match to our coloured paper as best as possible.
The Finer Details:
- Floral and decor hire not included, and can be arranged via The Small Things Co and Wild Flos. See our Curated Packages brochure for more details on pricing and inclusions.
- Need invitations? You can shop matching Prana invites here.
- While Curated Packages include floral and decor hire, so are available for events in Melbourne only, we can ship our stationery & signage worldwide, so our packages can be ordered by anyone, anywhere. Shipping fees are calculated at checkout. We recommend express shipping for international orders given the time sensitive nature of weddings.
- If your event is larger than 200 guests, get in touch with us for a quote as our pricing differs for larger orders.
- We cannot accomodate events smaller than 40 guests.
- What if plans change? Check out our Terms and Conditions for our Cancellation and Covid Policies.
- Upgrades and add-ons available upon request. Contact us if you have any queries before placing an order so we tailor a custom order for you.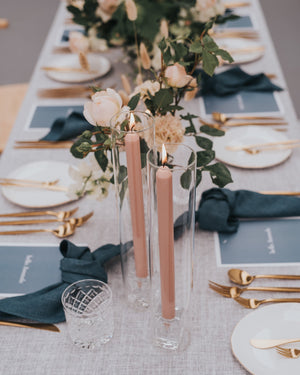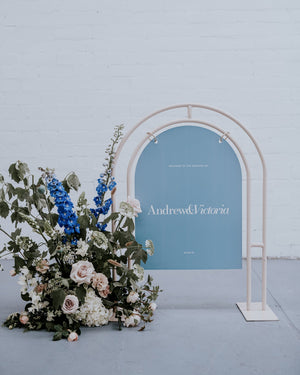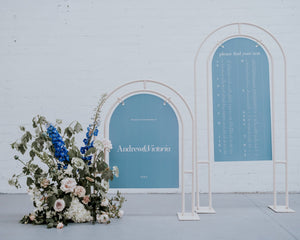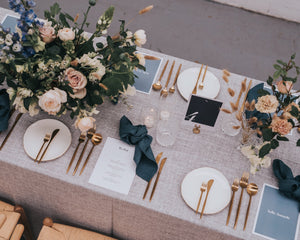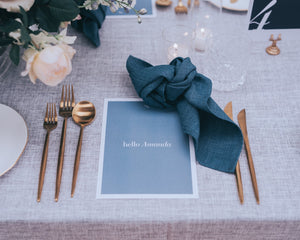 Sample our stationery
Our sample packs are the perfect way to discover the quality of our stationery first hand, and make those all important colour choices. Order a sample pack from your favourite collection or our mixed packs, with free shipping worldwide.
Order Samples →