Mixed Event Day Sample Pack
The beauty and quality of our papers and printing needs to be seen and felt in real life, so our sample packs are the best way to select your stationery pieces before committing to an order.
This mixed event day sample pack comes with a small selection of event day stationery items from each of our collections. Perfect if you're not looking to purchase invitations but would like to see a general range of items. If you're really loving one particular collection, then we'd suggest ordering a collection sample pack rather than the mixed pack, so you can see the full suite.
We aim to show you a variety of print and paper colour options, but it is dependent on what is available at the time.
If you'd like a specific piece, please let us know at checkout and we'll do our best to include it.
FREE SHIPPING worldwide on all sample packs (standard shipping, express options available at checkout).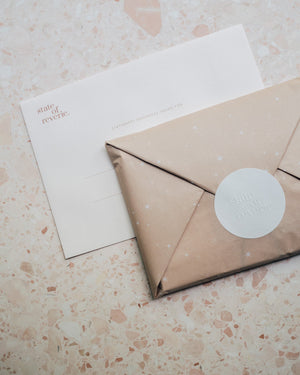 Sample our stationery
Our sample packs are the perfect way to discover the quality of our stationery first hand, and make those all important colour choices. Order a sample pack from your favourite collection or our mixed packs, with free shipping worldwide.
Order Samples →