Conscious Wood Seating Chart
Equally functional as it is fashionable, our Conscious seating chart ticks all the boxes for a stunning feature display at your wedding reception.
The Conscious collection has been designed with sustainability at the forefront. Sourcing papers with as much recycled content as possible, and all completely FSC certified, biodegradable and recyclable. The collection is also entirely plastic free, as with all State Of Reverie products.
Our seating charts are printed on a rigid 3mm thick paper based board that is plastic/foam free, fully recyclable, and laser cut to shape.
Choose from an alphabetical name layout, floorplan view or long communal tables.
Please read our How To Order page before placing an order.
Production timing: approx 4-5 weeks from receiving your text content, plus shipping.
Size and shape options available:
A1 (594x841mm) - for easel display or hanging
A1 with header card (594x240mm) - to fit seating chart stands from The Small Things Co
Long board for 200+ guests (594x1000mm), with header card (594x210mm) - to fit seating chart stands from The Small Things Co
Arch - 470x1000mm - to fit arch stand from The Small Things Co
Arch - 594x841mm - for easel display
Pill (600x1200) - to fit Side Attachment Stands from The Small Things Co
Flat ink (digitally) printed in your choice of colour. Colour preference is confirmed after placing your order, as well as which seating plan layout you'd prefer.
Need a stand? We have a beautiful collection of stands for hire available from The Small Things Co (Melbourne only).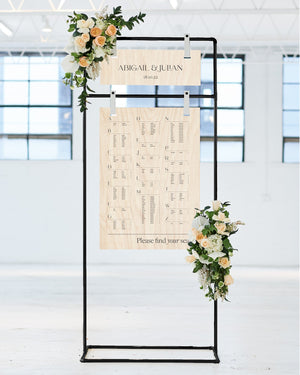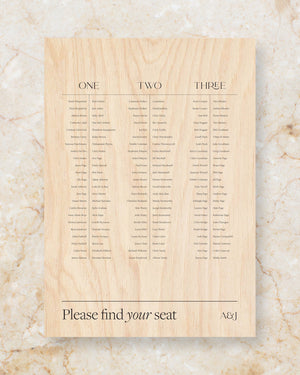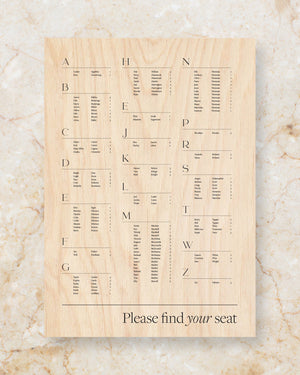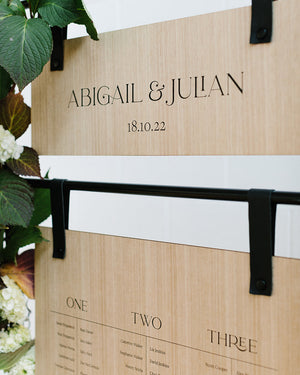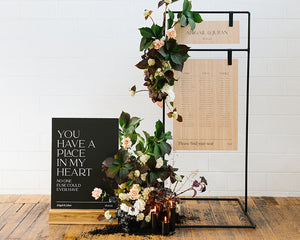 Sample our stationery
Our sample packs are the perfect way to discover the quality of our stationery first hand, and make those all important colour choices. Order a sample pack from your favourite collection or our mixed packs, with free shipping worldwide.
Order Samples →