Optique Floating Pill Sign
Create a feature display with your food or drinks menu, with our floating signs in our Optique signature pill shape. A hidden shelf on the back sits atop your bar and gives the effect of a free-floating sign. Secure it down with either blue tack or a weighted object on top. Pro tip: a floral arrangement behind the sign will look gorgeous too.
Available in quantities of 1, 4, 8 or 12. Our print costs work out such that purchasing multiple signs (even with different artwork) is much more cost effective, so if you need 2 signs, it's about the same price as 4.
Please read our How To Order page before placing an order.
Production timing: approx 4-5 weeks from receiving your text content, plus shipping.
Size: A4 (210x297mm) Pill shape, with a shelf attached at back.
Print: Flat ink (digitally) printed, single sided. Preferred ink colours can be nominated after placing your order.
Material: 3mm premium board that is plastic free and fully recyclable.
Note: colours on screen may not be true to tone, so we strongly recommend ordering a sample pack.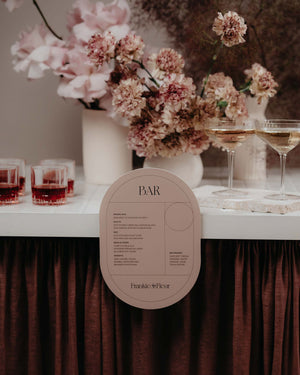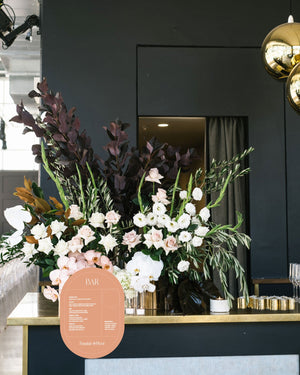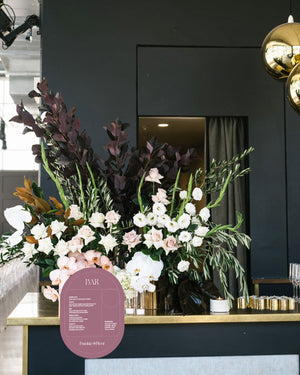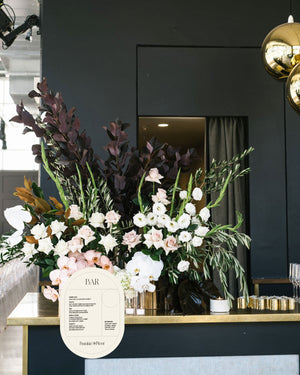 Sample our stationery
Our sample packs are the perfect way to discover the quality of our stationery first hand, and make those all important colour choices. Order a sample pack from your favourite collection or our mixed packs, with free shipping worldwide.
Order Samples →