The pocket trend is not going away anytime soon, and our unique square shape Verona pockets are a crowd favourite! Elevating your invitations from gorgeous to spectacular, they house all the components each in their own rightful place, so that your guests have a truly memorable experience receiving your invitation.
The pockets are designed to fit the invitation on the left, with the enclosure cards layered in the right hand side pocket panel. Available in a range of colours (if you don't see a colour you like just ask us for more options).
Pocket does not replace an envelope, so please order square envelopes additionally. Pockets also need to be sealed with either a sticker or wax seal, which can be ordered separately.
Production timing: 4-5 weeks from receiving your content, plus shipping.
Size: fits a standard 148x148mm square invitation. Size when closed is 155x155mm or 6x6in. Requires Square Envelope which measures 6.5x6.5inch when closed.
Pockets cannot be printed on.
Invitations can either be glued or clipped to the left hand side pocket panel, and we'll ask your preference on this as we're desiging your artwork.
Please note - digital images may not be true to tone. To ensure colours and print finishes are to your expectation, we strongly recommend ordering a sample pack.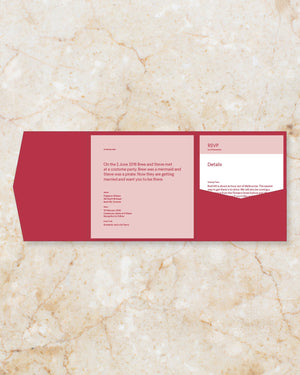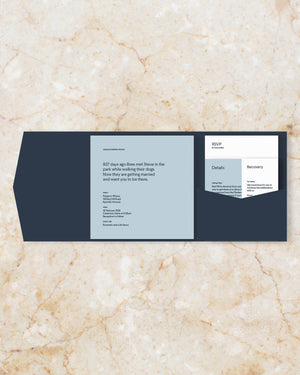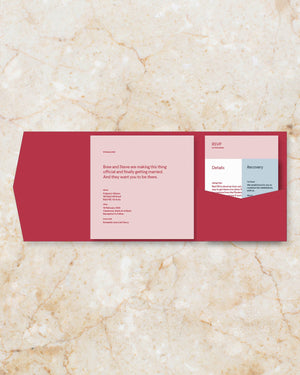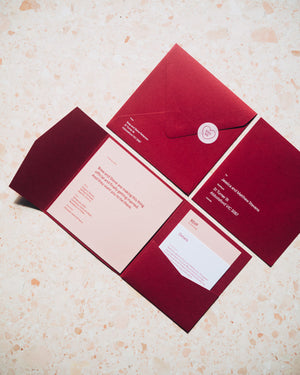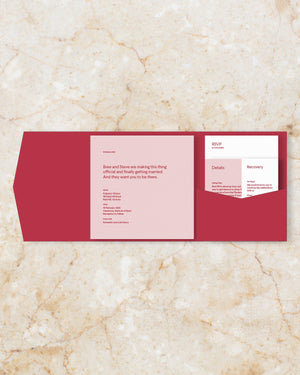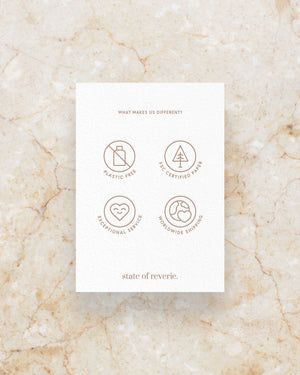 Sample our stationery
Our sample packs are the perfect way to discover the quality of our stationery first hand, and make those all important colour choices. Order a sample pack from your favourite collection or our mixed packs, with free shipping worldwide.
Order Samples →